"Paul's passion for what he does and meticulous attention to detail translates into every hair cut and style he gives. He looks at every head of hair he touches as his own personal work of art and it shows. If you're looking for a high level of service and professionalism you can't beat Paul's style. If you want to get compliments on your new hair cut the next day, I can't recommend Paul George enough."
Ryan Knoll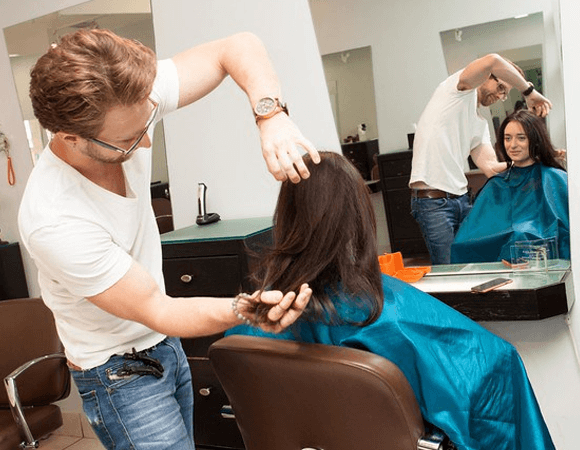 "Paul my experience with you and my hair has been wonderful. You take such pride in your work and you pay close attention to your customer's needs. You are very meticulous and I always feel more beautiful when I leave. You rock!!!"
Courtney Seithel
"Paul George is a knowledgeable and kind stylist who is great with color and cuts. I have been going to him for many years, and with many different looks, and he nails all of them. I would highly recommend him to anyone looking for a great stylist!"
Leela Fazzuoli
"It is very easy to recommend Paul George. When I came to Paul I wanted to make a change to my hair style, having worn it the same way for nearly 20-years. Immediately Paul gets energized and thoughtful, while taking great care in the stress that may come with the concept of change. You can simply feed Paul ideas, as he is able to visualize and immediately illustrate examples that fit your imagination. Yet is does not stop there, I continually challenge Paul to ensure my cut is versatile and for him to present me with a multitude of styling options. He never disappoints and is able to continually add value and improvement. In terms of his work, he is extremely meticulous and current. This will jump out at you during the initial moments of your visit. To top it off, he is a great conversationalist and all around pleasant individual. Simply put, I am having a lot of fun with my hair. My wife is a happy client as well."
Joseph P. Barberio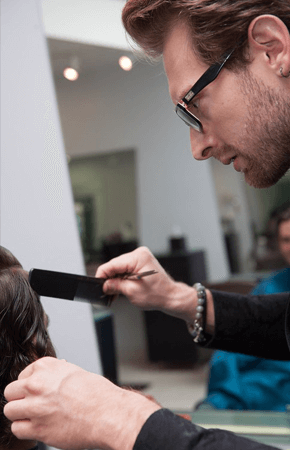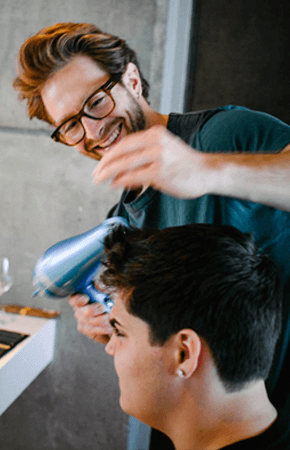 "I've honestly never been a fan of getting my haircut.. It consumes time, money, energy, etc. Ive always looked at it as a nuisance. That is, until I began coming to see you. The second I walk in the front door im greeted with a warm smile and a bear hug. You keep me coming back and I'm happy to do so. I can honestly say I enjoy our appointments together and I always enjoy my fresh look. Thanks for doing such a great job, dude!"
Nate Lanoue
"I have been going to Paul for haircuts for almost 3 years. I usually get my haircut once to twice a month and not once in the 3 years have I received a haircut I wasn't pleased with. Paul comes from a bartending background and there are many similarities between a trusted bartender and a trusted barber. Not much is usually discussed as far as what type of cut I want, I usually just let him do what he feels is best and he's always right. Just like walking in and sitting down at a bar with someone you trust, you let them make you something and it always works, even if you didn't even know what you wanted.
Always very professional and takes his craft very seriously. Paul even goes out of his way to accommodate his clients. He has brought his tools over to my house when I couldn't make it to the salon. Even those haircuts were perfect. He is truly the perfect combination of customer service and high level of skill that makes him very good at what he does."
Chris Lingua
I moved from Seattle and was so bummed to not have my regular stylist anymore. After going to a dozen different salons around Phoenix/Scottsdale, I finally found a place I can trust completely. It's so hard to find a stylist that you can just sit down with and let them do their thing, but Paul is exactly that. He's amazing, it's like when you go to that great cocktail bar and give the bartender a few flavor profiles and tell them to make you something, that's Paul! But with your hair! AND he also has a cocktail waiting for you, as well as some amazing music! I've learned of more than 1 new band that I still listen to thanks to my haircut jams. I recommend everyone to check out Liquid Scissors, it's not just a haircut, it's an experience!
Noah Moymer
It feels right, it looks right. Why? Because my motivation is pure, it genuinely comes from within me. And so I feel like I wear it well.
-Mike Vallely-