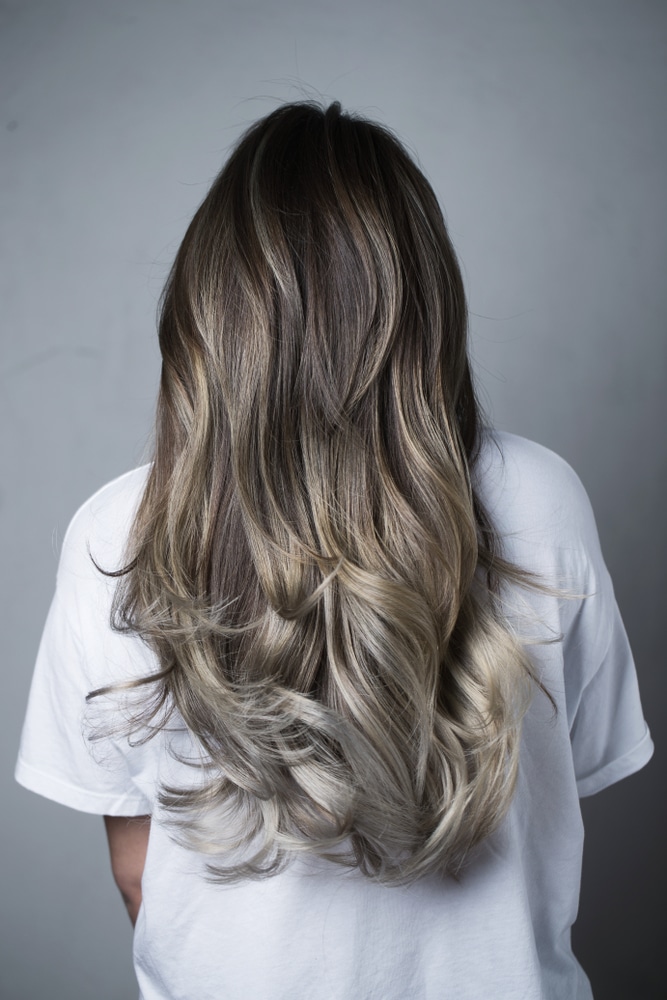 So after much consideration (i.e. poring over pictures of flawless tresses on Pinterest and googling celebrity locks), you've decided to request an ombré or balayage treatment at your next hair appointment. Simple as that, right? Wrong. Because these aren't your average highlights, there are a few things you should consider before requesting one.
But first thing's first, how are these coveted looks created and what is the difference between an ombré and balayage?
What is an ombré ? An ombré is a gradual lightening of the hair that leaves your natural darker roots at the crown of the head which then transitions down to a lighter hue. Perhaps one of the biggest perks of this hair color is that it doesn't require frequent root touch-ups.
What is balayage? Balayage is a hand-painted color technique that creates more natural, sun-kissed looking highlights (similar to what some of us lighter-haired people experienced as children). Carefully selected hues best suited to your natural hair color and strategic color placement makes this treatment a very popular option for the summer.
Balayage and Ombre Hair Gallery
Liquid Scissors hair color services include ombré, balayage and standard coloring for blonde, brunette, black and grey hair. As an artisan hair colorist, I am committed to the outcome of each client's visit, and this isn't limited to rich, buoyant color. I couldn't be the best balayage and ombré colorist in Scottsdale if I didn't practice the preservation of hair quality. I prioritize hair treatment in every cut and color, this is how you maintain the tone and original results of your color treatment.
Together, we'll find a hair color solution that achieves your stylistic dreams while keeping your hair nourished and naturally radiant. Book your next ombré or balayage with me and see why Liquid Scissors is a 5-star ranked best men's and women's hair color salon in old town Scottsdale!
Here are 5 tips to help you get the most out of your ombré or balayage before your next trip to the salon:
Get (and keep!) your hair healthy. Ombrés and balayage treatments both put considerable stress on your hair. It's recommended to get a trim before, or after the coloring process to remove new or worsening split ends. Invest in a moisturizing, color-protecting conditioner for upkeep. Applying a deep conditioning masque once a week is also good practice.
Keep it natural. For the best results with these color treatments, it's important to consider your natural hair color. After all, the goal is to have your highlights looks as natural as possible. It's easier (and more natural) to go from black or dark brown to a medium/light brown at the tips, while naturally blonde hair can transition to a much lighter hue. Going from black to blonde is not advised for these looks.
Get specific. It always helps when you can bring inspiration pictures into your salon to explain exactly what you like about what's pictured. Having an idea of where you'd like your ombré transition to start or which face-framing highlights you'd like for your balayage helps your stylist give you exactly what you want. Of course, asking their advice never hurts either.
Know what comes next. Getting your hair back to a solid color after your ombré or balayage will require more dye/work. Often times, the bleached portions of your hair will have to be dyed separately, first, before the overall color is applied. There are styles and cuts that can help ease this transition as well so be sure to discuss your options with your stylist.
Tell your stylist/their receptionist in advance. Both of these coloring techniques take more time than a typical cut and color. You want to make sure the stylist has ample time to finish your hair or you could risk having to be rescheduled for a different day when their schedule is freer.
GET THE PERFECT COLORING TECHNIQUE FOR YOU