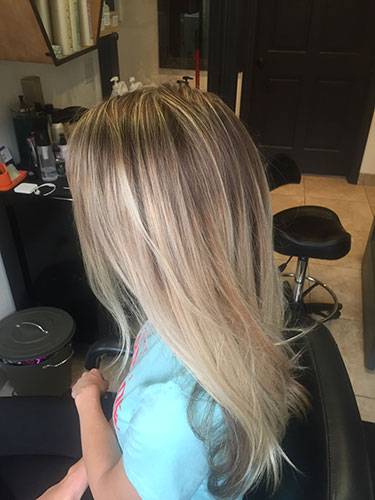 Blonde Hair – Healthy, Shiny, Beautiful
Blonde seems to be the sought-after hair color, but please CONSULT WITH A PROFESSIONAL before engaging in ANY hair lightening process. This is no DIY deal! My goal as a hair colorist is to preserve your hair. Emphasis on PRESERVE. A little insight as to how going blonde works….. lightener is applied to the hair shaft, and the cuticle opens, the hydrogen peroxide enters the hair shaft and oxidizes the existing pigment and voilà, and a beautiful blonde appears! If it were just only that easy.
There are so many different factors to consider when going blonde, or even lightening your locks just a tad. Different levels of lightness, the underlying pigment of your hair (natural color, current color), development time (how long you leave it on your hair) and the current health of your hair (is it dry and damaged or healthy?) influence your ultimate result. As you lighten the hair, it is so important to make sure you leave the lightener on the hair for the proper development time so you don't wind up with the dreaded orange or yellow hair look. Also, using too high of a developer or leaving it on too long can leave the hair porous and straw-like possibly causing breakage.
Blonding ain't easy, but lucky for Scottsdale we have just the place to go to get that beautiful blonde hair!
Brunette / Brown Hair – So Many Options!
If you're thinking of going brunette or are already brunette and just want to add some depth and luster back to your lifeless color, there are options to consider. Let's say you're tired of your blonde hair and want a drastic change because you just broke up with your girlfriend/boyfriend, maybe you're turning 50 and need a reboot, or you just saw your favorite celebrity on the cover of W Magazine with this cool brown color, please seek a professional.
In order to choose the best brunette color for you, there are some decisions and choices to make. One, select the level of depth. Do you want your hair to be light brown, medium brown, or dark brown? Two, choose your tonal direction. Do you want to be warm or cool? What works with your skin tone, eye color, and personality? Three, remember if you are a blonde, you cannot just pick a brown color and just slap it on your head and call it a day.
If you are already brunette and just need a color refresh, a tonal change or go a tad darker/deeper, a semi-permanent color glaze may be the best way to go. It will refresh, add luster and shine back into your hair without damaging it. These types of glazes will last anywhere from 15 to 25 shampoos.
Once we learn about your hair goals, history, and desired brunette "look", we devise a strategy that ensures we achieve the perfect shade of brown.

Black Hair Color Services
Coloring hair black is the easiest of all hair color. Just remember to have the underlying pigment support, so the hair appears lustrous not lifeless.
Another thing to keep in mind if you don't want to look like Elvira or Edward Scissorhands is ensuring that your skin tone and eye color work with the black shade you seek.
But most of all make sure you are confident in your color choice and committed to black tresses. Why? If you change your mind and decide that black hair is not right for you, going lighter can cause stress and breakage of the hair.
Gray Hair Coverage
If you're going gray, you may already be accustomed to your 5-6 week routine gray hair touch ups with your hairstylist.
This is fantastic if you're happy with your current hair color.  If you're willing to embrace your gray, you may want to consider a transitional period. Going lighter gradually is a great way to transition into your gray or white hair. Combining your new hair color with an awesome haircut is ideal – check out our haircuts for women and men's haircuts!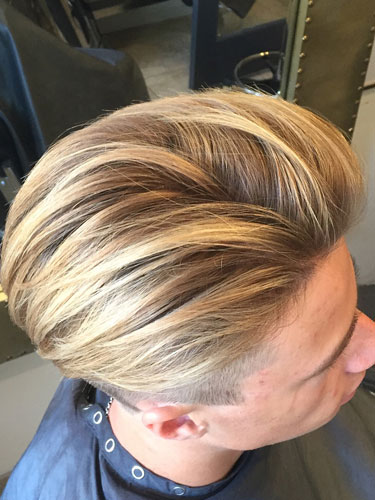 Men's Hair Color Services
Men seem to be more self-conscious about coloring their hair than women. It's very personal. Usually, men just embrace the salt and pepper because traditionally, hair color was reserved for women. Not anymore.
Real men, manly men, senior men, young men, hipsters and the guy next store, color their hair too. Men have many personalized options in the realm of colors such as grey coverage, a shade change, subtle highlighting or a color refresh.
Even men who are thinning, with the proper hair color, can make your hair appear fuller and disguise hair loss. Combine it with an amazing men's haircut!
If you're looking for a total makeover / transformation, we can definitely take care of you. Check out our gallery of men's before and after hair transformations!