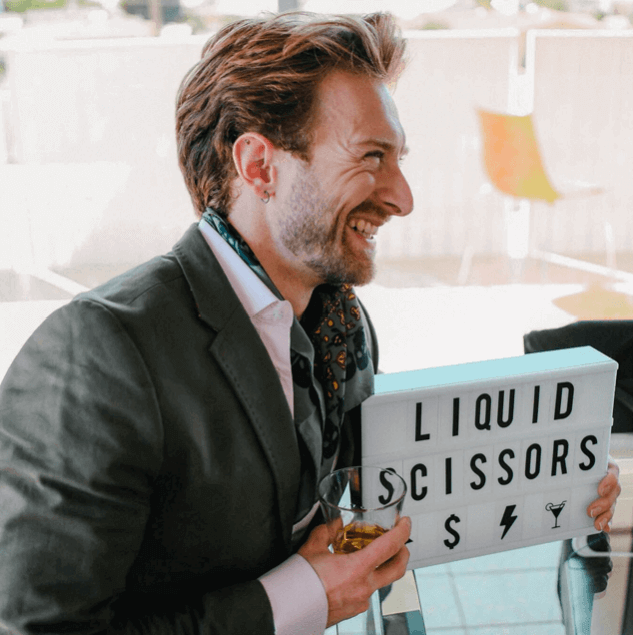 Liquid Scissors Salon
Liquid Scissors is a full service hair salon for men and women, conveniently located in old town Scottsdale!
Paul George is renowned in Scottsdale for his brilliant haircuts and hair color. From classic to contemporary, Paul uses modern techniques that will provide you with a style that fits your specific needs, whether your hair is short or long, thick or thin.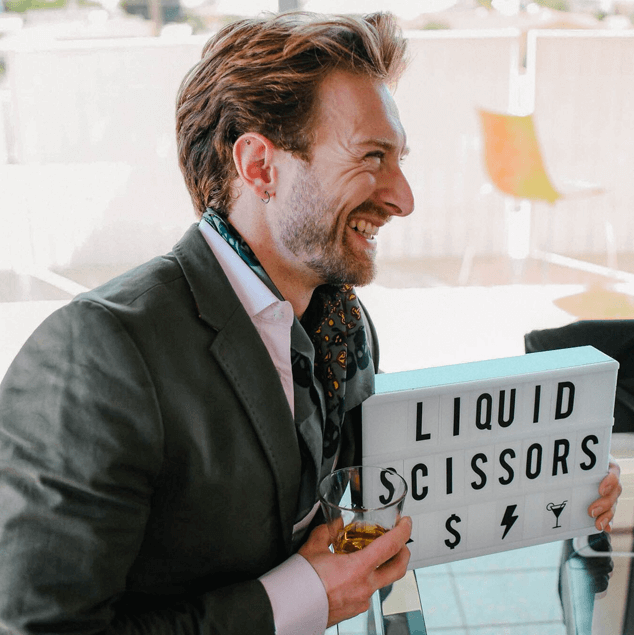 We love men's haircuts and drastic men's hair transformations!
Are you due for a drastic haircut, a trim, a completely new style, or men's color? You can trust my years of experience, dedicated training, and expert male opinion. I love working with men's hair of all lengths – short, medium, or long.
One of my favorite parts about women's hair is the consultative experience. I take the time to listen and learn about your lifestyle, hair story, products, and goals. Are you looking for a dramatic change, or easy maintenance? Short and blonde? Highly textured balayage? Subtle ombre on long hair? Let's talk!
EXPLORE LIQUID SCISSORS HAIR SERVICES
CHECK OUT LIQUID SCISSORS 5 STAR REVIEWS ON GOOGLE AND YELP!
SalonChamberlain
2021-10-10
Paul George is the best stylist in az
Emerson Fifield-Hall
2021-09-21
Finally found someone local who can cut exactly as I like it. Paul is a talented and great guy. The location is ideal with ample parking. I'm stoked my wife found Liquid Scissors🤘🏼
Paul is one of the BEST stylists I've ever used- he listens, he gives you exactly what you talk about. He is 1 of the few stylists that I haven't had to go home after a cut and fix it myself. Worth every penny. Once you find a talent like Paul you hang on to him and I will !
I just moved to the Phoenix area and had no idea where to get my hair cut. Paul did a very good job, and he is very nice and personable. Really like this place. I don't leave reviews unless it's really good or really bad.
Christy Randazzo
2021-05-11
My 13 year old loves loves loves his hair! First time he has not complained when he walked out and got into our car. Thank You!!!!
Ruthann Ramsey
2021-04-25
Fabulous, the best hairdresser I've been to ever!!!! You will not be disappointed!!👊
George Cassettari
2021-03-19
Paul is the best. Not only a great stylist but also a exceptionally bright and open individual
Before coming to Liquid Scissors, I would get my hair cut at any barber close to me. But Paul is amazing! I have thinner hair, and he does such a great job that I can't go anywhere else anymore, he's the best! He's extremely friendly too, listens to exactly what I want, and can't recommend him enough.
Spent 4 years of bad haircuts trying to find someone good. I would do it all over again to find Paul, as he exceeded my high expectations! Nothing is worse than getting a haircut that's good one time and bad the next, but luckily you don't ever have to worry about that with him. Not only does he take his time to cut your hair for the exact style you want, but he consistently gives a good cut every time. If you're looking for someone you can rely on and really cares about giving a great haircut personalized to you every time, make an appointment with Paul!
Paul is most certainly the best hairstylist you can find.

Paul has been my hair dresser ever since I moved to Scottsdale. He does a fantastic job on my hair cut and color and works to help me attain the... read more type of look that I want and it always looks fabulous. Even if your not sure,  he's able to use his talent and professional training to find and create the perfect look for you with precision and efficiency.

After discussing with him at multiple appointments, I finally had Paul put hair extensions in for my wedding and they couldn't have been more perfect. They turned out exactly as I had envisioned and I received numerous compliments on what a great job he did and how beautiful my hair looked. Even when I returned, he checked them over to make sure the bonds were okay after multiple days in salt water. He reinforced my hair regimen to make sure I get the maximum amount of life span and to keep them as healthy as possible.

Paul is very personable and so much fun to talk to while you get your hair done. If you want some great style, color, and conversation, he is absolutely the guy you want to see!! He's not only a great stylist but also a really great person!  I look forward to each time that I go in and get my hair cut and am always greeted with a smile. Ask for Paul!!

Erika W.


6/16/2016

When I first moved to AZ I was completely stressed out that I was not going to find anyone to do my hair and then I found Paul! Paul is... read more efficient, fast and flat out amazing! He puts my extensions in faster and better than anyone I have ever gone to before! He is also a fabulous colorist! A process that I usually don't look forward to but I love going to Paul to get my hair done! He's talented and a blast to be around!

Christine W.


12/03/2015
TESTIMONIALS

"Paul my experience with you and my hair has been wonderful. You take such pride in your work and you pay close attention to your customer's needs. You are very meticulous and I always feel more beautiful when I leave. You rock!!!"

"Paul's passion for what he does and meticulous attention to detail translates into every haircut and style he gives. He looks at every head of hair he touches as his own personal work of art and it shows. If you're looking for a high level of service and professionalism you can't beat Paul's style. If you want to get compliments on your new haircut the next day, I can't recommend Paul George enough."

"Paul George is a knowledgeable and kind stylist who is great with color and cuts. I have been going to him for many years, and with many different looks, and he nails all of them. I would highly recommend him to anyone looking for a great stylist!"

"I've honestly never been a fan of getting my haircut.. It consumes time, money, energy, etc. Ive always looked at it as a nuisance. That is, until I began coming to see you. The second I walk in the front door im greeted with a warm smile and a bear hug. You keep me coming back and I'm happy to do so. I can honestly say I enjoy our appointments together and I always enjoy my fresh look. Thanks for doing such a great job, dude!"

"Paul did a fantastic job with my hair. I showed him a photo of want I wanted and he was able to replicate that to my satisfaction! I received endless compliments from friends and even strangers on my hair! Which as any woman knows makes you feel special! So thank you Paul!"