Men's Hair Salon in Old Town Scottsdale, AZ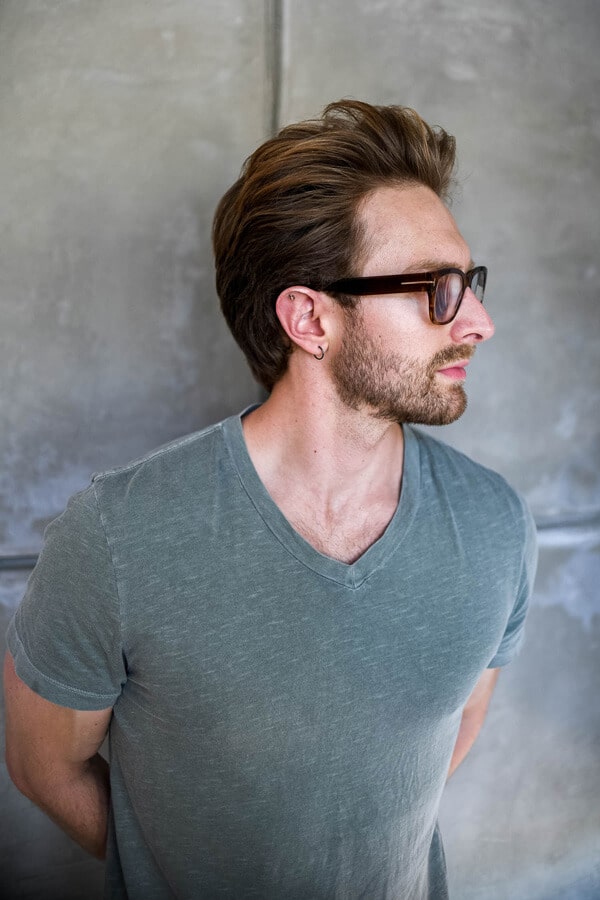 Liquid Scissors is located in the center of Old Town Scottsdale, and Paul George specializes in men's haircuts and color. "One realm of hair design that really grabs me is men's haircuts, it's like a second language to me."
As much as I enjoy cutting men's hair, it isn't something to be taken lightly. Men's hair is one of the hardest things to do as a hairdresser. You must be mindful of face shape, head shape, cowlicks, recession, hair texture and density. Not to mention most men have short hair and with short hair comes greater risk for a mistake. Creating a haircut and watching it come together and flow is something I have tremendous passion for, that's why with men's hair or short hair for that matter DETAIL is key.
Let me start by saying to a lot of guys out there… I get it, our hair is something we can be extremely self-conscious about. I sure as sh** don't want to lose mine.
Guess what? Every guy will experience hair loss throughout his life. Just because you are thin, or thinning doesn't mean you can't pull off a pompadour or the "David Beckham". I have plenty of clients that are losing or have lost quite a bit of hair. So, get ahead of the recession with the proper haircut for you.
On the flip side, if you have hair for days and can pull off any number of styles, let's have some fun and whip that hair into shape. From long locks, undercuts, pompadours, fades, to classic side parts, short all over or a messy or modern slick back let's cut it up and make you feel like your best self. I love doing haircuts for teens as well, we have so many options for trendy styles."
Whether you are due for a drastic cut, a trim or a new style, you can trust my years of experience, dedicated training, and expert male opinion. Please take a look at our recent men's hair transformations!
Men's Short Haircuts and Styles
Men's Medium and Long Haircuts and Styles
Men's hair and choosing the right hairstyle for your face shape
Let's "face" it, most of us guys are not David Beckham and cannot pull off any number of hairstyles. Yes, we trust our men's hairstylist or barber to guide us in the right direction, but the key is to know what haircut or style works best with your face shape. The great thing about determining your face shape and finding an appropriate hairstyle is that it should work to enhance certain favorable features.
Now, take a second, get a touch narcissistic in front of the mirror and figure yourself out.
Let's start by listing the most common face shapes and their characteristics: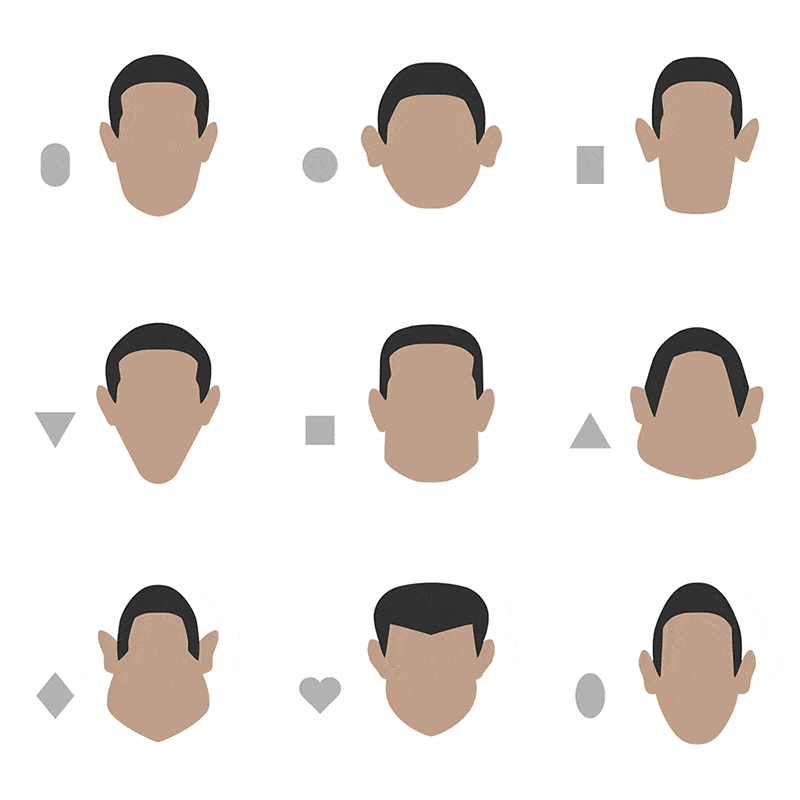 Oval – You have no dominant features, the face is rounded, longer and narrow rather than short and wide. Oval face shapes are very harmonious but run the risk of looking plain due to a lack of a focal point.
Square – The sides of your face are straight with a defined angular jaw. The front hairline and jaw line are almost horizontal while the cheekbones protrude very little on the sides.
Round – This is a circular face shape, with the appearance of being short and wide. The hairline is low accompanied by a short chin and rounded jawline
Oblong – Otherwise known as a rectangular face shape. The jawline is wide, almost horizontal, while the face is long and narrow. The cheekbones barley protrudes allowing the sides to appear vertical.
Heart – A long, angular face shape. The chin area is elongated or pointed, while the forehead is wide.
Diamond – The widest area of the face is at the cheekbones. The forehead and chin are narrow. This can be confused with an oval face shape, but the appearance is slightly elongated and angular.
Triangle – The jawline is the widest area of the face with a forehead that is narrow.
Now you have some insight into the various facial shapes one could have. Feel free to take it one step further with the three-sectioning method. The three-sectioning method is an effective way to measure the proportions of the face. Section 1 measure the front hair line to the middle of the eyebrows. Section 2 measure from the middle of the eyebrows to the tip of the nose. Section 3 measure from the tip of the nose to the tip of the chin. If these sections have equal measurements, they are harmonious. If there is more than a ½" difference between any of the sections, it is not harmonious. Choosing the right hairstyle can give the illusion of balance.
Now that you've figured out which facial shape you best fall under, our next step is to determine the haircut and style that best suits that beautiful mug!
Best men's haircuts for oval faces
Hey bud, it's your lucky day. Most hairstyles work well with this face shape because of the symmetry and balance.
Haircuts that work well with Oval face shapes are: Quiffs, pompadours, fades, undercuts, textured slick backs, comb overs and spiky hair. But there is also a lot of room to experiment with longer lengths such as fuller rocker-esque shoulder length hair.
Caution: Avoid bangs or fringes that could cover your forehead and make your head appear even rounder.
Best men's haircuts for square faces
Like the round face shape in width and height, but in this case, you're dealing with that strong masculine jawline, which is a feature that should be accentuated, typically by a hair cut with short sides. The square face can be also be versatile, so don't be afraid to play around with other lengths and styles, the face shape can handle it. Volume and fullness on top are key, giving the illusion of elongating the face.
Haircuts that work well with square face shapes are: Brush ups, quiffs, long comb overs, messy crops, buzz cuts, pompadours, traditional slick backs, crew cuts and undercuts.
Best men's haircuts for round faces
That baby face of yours naturally lack face shape and dimension. Not to worry, like the square face shape go for a style that adds height and volume on top giving you a more pronounced look, giving the illusion the face is longer.
Haircuts that work well with round face shapes are: High fades with pompadours, faux hawks, side parts, long textured comb overs, slick backs, spiky hair and undercuts.
Caution: Avoid too much volume on the sides, making the face shape appear rounder.
Best men's haircuts for oblong faces
Otherwise known as the rectangle face shape. You do not want to create too much of a disconnect between the top and sides, be conscious that you do not elongate the face any further and avoid excessive height. However, if you feel you need to turn up the volume on top, go for a more balanced haircut where the sides aren't too short.
Haircuts that work well with oblong face shapes: Side part, short brush up, sleek man bun, spiky hair and comb overs.
Caution: Avoid pompadours and other high-volume styles.
Best men's haircuts for triangle faces
Being strategic to balance out your wide jaw is key here. Think fuller hairstyles with some length on the sides to create symmetry. Haircuts that work well with triangle face shapes: Angular fringe, messy hair, swept bangs, textured pompadour or a quiff.
Caution: Stay away from short fades as it will accentuate your narrow forehead. We don't want you looking like a pear.
Best men's haircuts for diamond faces
Those cheekbones are poppin'! So, to even out the narrower forehead with your pronounced cheekbones, a chop with a more balanced aesthetic would be suitable.
Haircuts that work well with diamond face shapes: textured crop, fawx hawk, shag, side part, brush up, side sweep, messy hair and an angular fringe.
Best men's haircuts for heart shaped faces
Your chin is the narrowest part of your face. A hairstyle that's proportionate to your features with help balance the forehead with the chin. Haircuts that work well with heart face shapes: side part, quiff, brush up, angular fringe.
Caution: Avoid too much height on top as well as harsh angles.