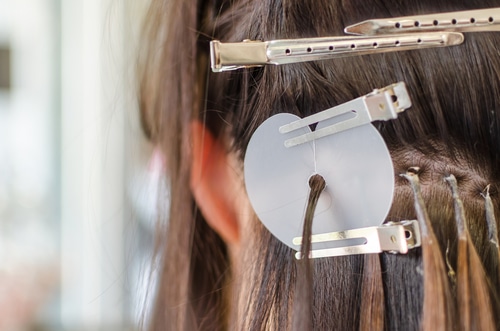 Culturally speaking, long thick hair is seen as a sign of good health, fertility, and youth. Be it long or short, every woman at every age wants a full healthy head of hair. Enter the world of hair extensions. Maybe it's just another trend? I don't think so. Hair extensions are incredibly popular and likely here to stay.
Why Get Hair Extensions?
Do you have trouble growing your hair out? Hair extensions are phenomenal for the client who desires instant length. Turn short or shoulder length hair into long flowing locks!
Is your hair thin or damaged? Transform thin flat hair to voluminous beauty. As your extension specialist, I will consult with you to determine which method is right for your hair as well as your budget.
How much do hair extensions cost? You should know good hair extensions are not cheap. Quality hair, proper tools, and technique will provide long-lasting, beautiful results, which in the long run will save you money. I can't count how many times I have had to fix botched work while trying to salvage trashed hair. I don't want you to be a victim of a Groupon special. Hair extensions should only be performed by a qualified, certified hair extension specialist.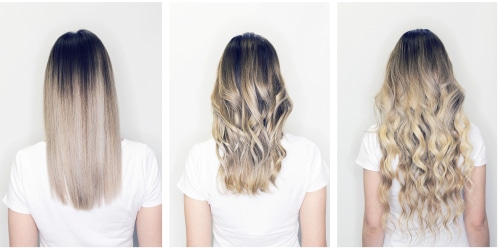 Will hair extensions damage my hair?
Let's start by answering a common question regarding hair extensions: "Will extensions ruin my hair or make my hair fall out?" The answer is no, it shouldn't. With proper application and maintenance, your hair will not be damaged and will maintain its health and beauty. However, with an improper application, removal and poor home maintenance, damage can occur.
How should I maintain my hair extensions?
I will go over proper home care instructions to preserve the style and extensions themselves, along with your natural hair. I will educate you on which styling tools such as the correct brush, correct brushing technique (scalp to ends gently, no tension), how to wear your hair while you sleep properly (low ponytail or braid) and proper products so that tangling is non-to minimal.
Does the type of hair used for hair extensions matter?
Yes! As a hair extension specialist, I use only SHE by SoCap. SHE by SoCap is the leading hair extension manufacturer worldwide. The importance of good quality human hair is to preserve your natural hair texture and prevent your hair from tangling. Tangled hair results in damaged hair.
SHE by SoCap is available in over 90 different color choices, multiple texture choices including straight, wavy and curly, as well as an assortment of lengths. A variety of attachment techniques are available as well. Used most often are the keratin tipped strand-by-strand bonding. This allows the hair to blend perfectly giving the hair its most natural look. Clip-in and Tape-ins are other options to consider. Whatever you decide, I will provide an in-depth extension consultation to ensure I fully understand what you want your result to look like, teach you how to maintain your new locks and answer all of your questions, so you have a great experience from start to finish.