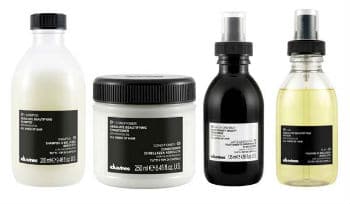 DAVINES HAIR PRODUCTS
Award-winning products and a cult favorite for healthy hair. Davines artisan spirit and craftsmanship is uniquely combined with cutting-edge cosmetic technologies for performance and sustainable beauty.
Davines' philosophy is simple. "Beautiful and Good."
Davines is a full-service hair care line with multiple specialty collections including Naturaltech, Essential Hair Care, OI, and More Inside.
Naturaltech by Davines
Plant-based hair care products and treatments to solve the most common problems of scalp and hair. Naturaltech formulations are enriched with Phytoceuticals for healthy hair: active biological compounds present exclusively in plants. Innovative cosmetic ingredients with extraordinary antioxidant, anti-inflammatory, and antiradical properties. The most modern research technologies allowed Davines to formulate natural and extremely high-performance products, eliminating parabens from all the formulas and sulfates from the shampoos.
Essential Hair Care by Davines
Daily hair care products with antioxidant and protective properties.
OI by Davines
Multi-benefit beauty treatment collection is enriched with Roucou oil for all kinds of hair types. The OI collection formulations are designed to nourish, give shine, softness, and silkiness to the hair. OI detangles, conditions, helps reduce frizz, provides hydration, volume and lightness without weighing the hair down. OI also protects the hair from heat.
More Inside by Davines
Styling line to shape your creative expression!